Auditor general report finds Manitoba's education system was unprepared for pandemic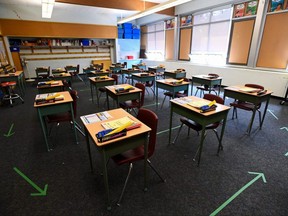 Article content
Manitoba's education system was not prepared for the COVID-19 pandemic and has not yet begun recovery efforts, the province's auditor general found.
Article content
Despite the shortcomings, Manitoba's auditor general Tyson Shtykalo said that the education department initiated a timely response to the pandemic.
Shtykalo's report released on Thursday found that there was no coordinated emergency response plan for kindergarten to Grade 12, which means the education department did not consider risks to the school system and was not prepared for remote learning.
"We expected plans would be in place to ensure a consistent standard of high-quality education is available to all students across the province during an emergency — such as a pandemic," Shtykalo said in a news release.
"However, we found the department worked out many details on the fly."
Liberal leader Dougald Lamont said every department is required by law to have an emergency plan in place.
Article content
"There was a complete lack of preparedness for the pandemic, which shouldn't be a surprise," he told reporters Thursday, adding that a pandemic response plan should've been on the radar of the education department.
The education department has also not initiated recovery efforts from the pandemic, the report found. Shtykalo's report said the education department needed to develop plans to address the pandemic's impact on student learning and mental health as well as addressing the lack of access to the internet or technology.
"Given that the province was just recovering from the second wave in early 2021 (when the review ended), the vaccine campaign was just beginning, and the seriousness of the third wave in spring 2021, the government's focus was not on pandemic recovery at the time the review concluded," Minister of Education and Early Childhood Learning Wayne Ewasko said in a statement.
Article content
NDP education critic Nello Altomare (Transcona) said the findings of the report are not surprising given the lack of funding the PCs have given public education.
The report did not focus on the decisions made by other departments, individual schools or divisions as well as public health officials.
Ewasko said that since the review was completed, the province has invested in ventilation projects, personal protective equipment and additional funding for schools to address learning impacts, mental health and wellbeing and remote learning.
The province says nearly $250 million has been given to support schools during the pandemic. In 2021-22, $63 million was given out to schools.
"Our government will continue to advance its plans for addressing the findings and recommendations received from this audit, as well as post-pandemic planning," Ewasko said.
Twitter: @steltsy94