OBE for exceptional scientific leader
An 'exceptional leader' and a 'role model for diversity' within the scientific community.
These are just two of the tributes paid to Dr Helene Hewitt who has been awarded an OBE in today's Birthday Honours List.
Helene, who is a Met Office Science Fellow and visiting professor at Southampton University, is an internationally-renowned climate scientist with expertise in ocean and sea-ice modelling.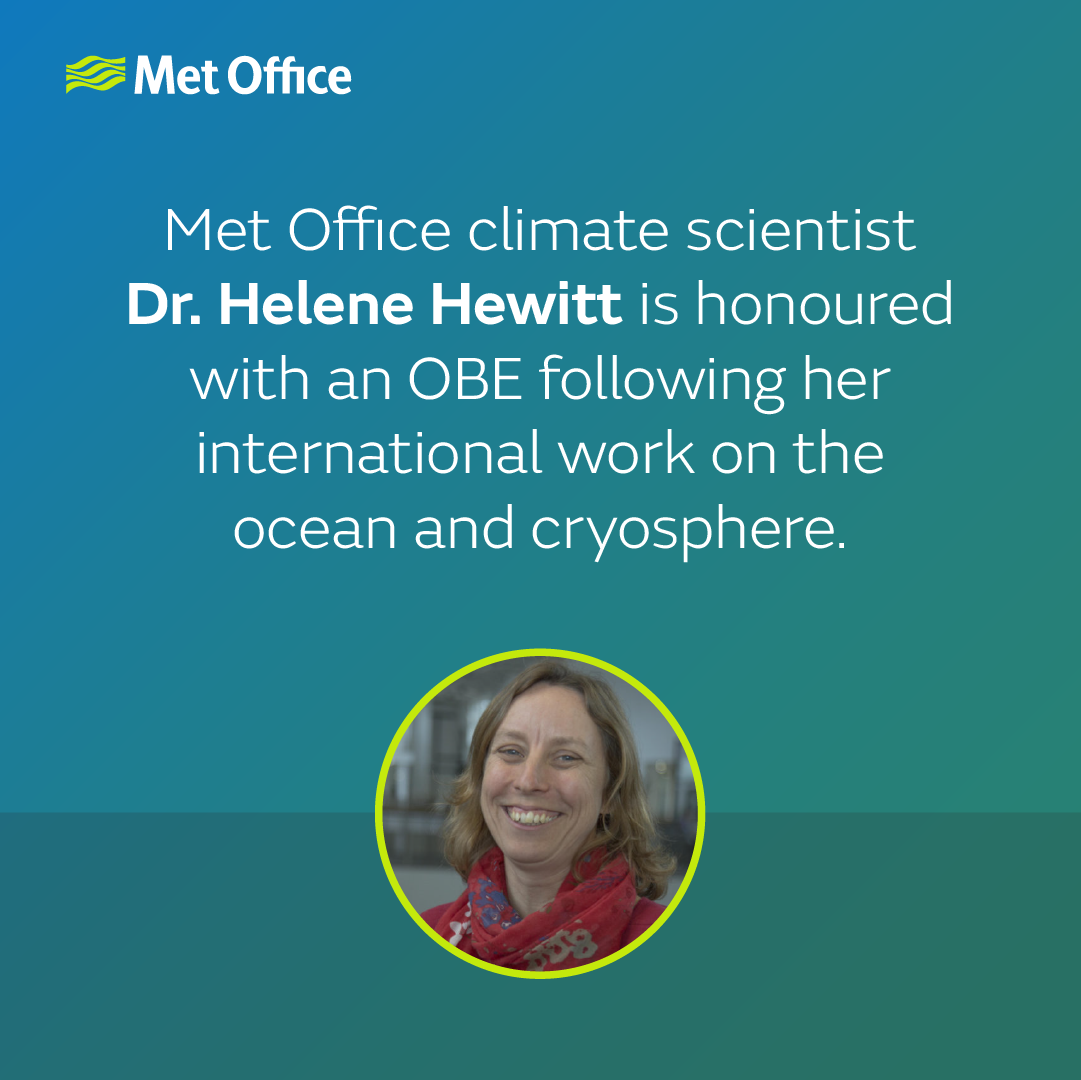 Over the past four years, she has acted as Coordinating Lead Author for the Intergovernmental Panel on Climate Change (IPCC) sixth Assessment Report (AR6) for Chapter 9, Ocean, Cryosphere and Sea Level Change. 
This report, launched in August 2021, provides the most definitive evidence of the physical impacts of climate change, as well as chapters on climate change adaptation and mitigation.
Professor Stephen Belcher is the Met Office Chief Scientist. He said: "As coordinating lead author, Helene dealt with exceptional challenges. She had to address a wealth of recent science developments, including scientifically contentious areas such as Antarctic contribution to sea level rise, and implemented a rigorous approach to combine multiple lines of evidence.
"Feedback from the scientific community also highlighted that her contribution went far beyond her scientific knowledge. She demonstrated exceptional leadership and management skills, in a complex, changing, international context, against the backdrop of the COVID-19 pandemic."
Helene managed a team of scientists from different disciplines, regions of the world, cultures, and personalities, implementing inclusive work methods allowing authors of the chapter to contribute to their best.
Professor Penny Endersby, the Met Office's Chief Executive, said: "Helene has shown great ability to anticipate and identify problems – both human and scientific – and to design and implement strategies to overcome them and to communicate regularly and clearly with colleagues. Through her leadership, this chapter concluded that sea level rise could be higher than previously thought. This finding, in an area of significant policy relevance, has driven further action on climate change."
She has provided national leadership in ocean modelling by leading the Joint Marine Modelling Programme (JMMP), which coordinates ocean modelling work across the UK, including the Met Office and the Natural Environment Research Council. Under her leadership, JMMP is providing world-class and easily accessible national capability modelling to support the UK's scientific research and operational prediction systems for ocean, weather and climate. 
Dr Helene Hewitt OBE said: "I'm humbled to receive this honour on the Queens Platinum Jubilee. I really appreciate that the many years of work on IPCC reports to provide expert assessment on climate change has been recognised in this way.
"I'm extremely grateful to all my family, friends and colleagues for their support and I hope this inspires young girls and women to join the next generation of climate scientists."
Away from scientific research, Helene has been a champion and role model for diversity in the scientific community.  For example, she co-developed the successful case for the Met Office's Athena Swan accreditation, and mentors early-career researchers. 
She plays an active part in her wider scientific community.  She has been co-chair of the World Climate Research Programme Ocean Model Development Panel.